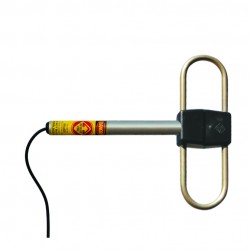 UHF SMD4 Series Side Mounted Dipole, 400-520MHz
The SMD4 series are a range of unity gain side mounted dipoles which can be used as a single antenna for short range applications or, if desired, phased together to provide high gain array coverage characteristics.
Contact RFI Wireless
Add to Compare
The SMD4-67 is of all welded aluminium construction. The feed point is protected by an ABS cap, with the internal PTFE based cable construction providing excellent intermodulation performance (-150dBc).
The stainless steel SMD41-67 is electrically identical to its aluminium counterpart and is recommended for corrosive environments.
All of the SMD4 series antennas are directly DC grounded for superior lightning protection and the reduction of precipitation static noise.
The SMD4 Series antennas are supplied with a boom for ¼ wave antenna to mast spacing. Application details on phasing and mounting of SMD antennas are included in the technical notes at the back of this catalogue.
• Versatile – Antennas can be phased and manipulated to achieve a variety of horizontal radiation patterns and varying gains. An extensive range of phasing harnesses available.
• Stock Antennas – Generally available off the shelf
• Lightweight – Easily mounted and installed with single clamps
• All welded, full folded dipole construction
• Varying boom lengths available to suit coverage requirements
• A range of suitable phasing harnesses available
The SMD4-99 is a specific frequency version of the SMD4. This antenna is designed only for use as a single dipole, not as a component of a phased dipole array as the antenna is custom made to user specified frequencies and is not specifically matched to a phasing harness. It can be ordered with a specified centre frequency anywhere in the band from 360 to 600 MHz with an operating bandwidth of approximately 20% of centre frequency.
| | |
| --- | --- |
| Nominal Gain dBd | 0 but can be incresed with mounting arrangements |
| Frequency MHz | 400 to 520MHz |
| Tunable Bandwidth | Full. No tuning required |
| VSWR | <1.5:1 |
| Polarisation | Vertical |
| Vertical Beamwidth | Typically 70° at ¼ l antenna – mast spacing |
| Horizontal Beamwidth | Typically 220° at ¼ l antenna – mast spacing |
| Power W | 500 |
| Passive IM 3rd Order (2x20W) dBc | <-150 |
| Construction | All welded aluminium with alodined finish |
| Length (inch) | 15.74 |
| Weight (pound) | 0.66 |
| Termination | N female with short 9142 cable tail |
| Mounting Area | 100mm x 25mm diam. Alodined aluminium |
PDF Downloads
Digitised Patterns
To download the pattern file right click on the file and select "Save Link As". The desired file format can then be viewed in your network planning software.
| | |
| --- | --- |
| Shipping Weight (lbs.) | 5 |
| Shipping Dims (inches) | 13x13x13 |