RFI is excited to introduce our leading range of UHF Corporate Collinears into the Asia Pacific Region, expanding our extensive base station antenna offering for our APAC customers.
The UHF Corporate Collinear series has been launched into Asia due to the technical capabilities being ideally suited to Public safety, utilities and transport solutions in the region. This includes applications that require wide bandwidth, higher power and more channels. The Corporate range's PIM and PIP ratings plus greater pattern control are also key reasons for the release of the solutions into these markets. Greater pattern control enables site operators more predictable coverage from modelling through to implementation/rollout.
The expanded series includes new CC450 corporate collinears covering the full 450-512MHz, including both 6dBd and 9dBd variants with 0°, 3° and 6° downtilt alternatives.
These robust, high-powered antennas cover the frequency range of 450-512 MHz, and are a great replacement for traditional exposed dipole array antennas, packaged in a low profile fibreglass radome. This preferred form factor provides a reduction in wind loading, ice loading and tower loading when compared to exposed dipole array configurations.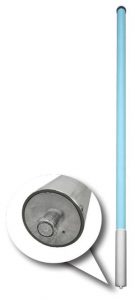 Key Features
High power, high gain and lower loss
Maximised gain, 6dBd and 9dBd options
Extraordinary bandwidth characteristics
Improved manufacturability and repeatability
Available in -3deg and -6deg tilt options
Field Invertible (excludes tilt variants)
Elements directly grounded for improved stability and reduction of static precipitation
RFI's Corporate Technology
Performance
The true corporate feed design maintains full pattern stability over the broad operating bandwidth, similar performance only to that previously offered by exposed dipole configurations. RFI's new corporate collinear arrays offer greater flexibility when considering site design and installation, combine more channels with more accurate pattern control, and no beam tilt cross the band.
The CC450 series have been designed with an exceptional power rating of 500W across the band as well as a Peak Instantaneous Power (PIP) rating of 25kW to cater for the peak voltage levels present in large multi-carrier combining environments. RFI's refined design processes and proven construction methods achieve a PIM rating of –150dBc, further ensuring performance is maintained for the service life of the antenna.
Corporate Structure
The unique corporate phasing system employed within this antenna ensures excellent pattern and phase control. This coupled with precision element reproduction and placement, produces exceptional bandwidth, offers lower loss, maximises gain and ensures PIM and PIP rated electrical performance throughout the lifetime of the antenna.
Corporate Design
RFI has incorporated its patented flexible PCB technology into the design of its corporate arrays to ensure repeatability and performance of the elements every time. The dipoles are grounded directly to a brass support tube, and onto the lightning spike at the top of the radome providing a robust finish with exceptional lightning protection, better stability and a reduction of static precipitation noise.

Applications
RFI worked with one of the largest integrators in the US to supply its CC450 series corporate collinears into an LMR radio network upgrade, providing coverage for the most populous county in the United States, covering 88 cities and approximately 10 million residents.
The new network is designed to integrate a patchwork 40 aging radio networks, and improve interoperability to over 80 public safety agencies, with over 34,000 first responders working across the county. It was imperative to ensure that the base station equipment chosen provided durability, flexibility, longevity and stability in coverage.
RFI has supplied to date over 250 CC450 series corporate collinears for the UHF coverage, chosen for their full band coverage, range of gain and tilt options, and factory tested PIM and PIP ratings.

The Range
RFI's CC450 range covers 450-512 MHz with various gain and Downtilt options. Learn more from our overview brochure.

Posted on