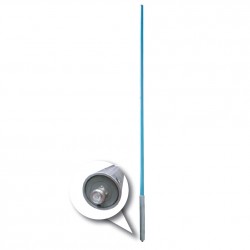 Our extensive range of collinear antennas is available in frequency specific designs suitable for both simplex and duplex applications and in addition feature our innovative broadband low PIM patented corporate feed antennas and PCB based Meander™ technology.
The Meander® family is a complete and extensive base station antenna offering, covering 130-930MHz, with exceptional bandwidth capability in an extremely light-weight and low profile package.
These antennas are an extremely versatile replacement for any antenna range available in the market.
Learn more about our patented Meander® Technology, case studies and our
complete range by downloading our brochure!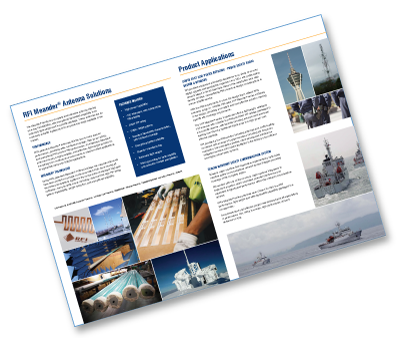 | Part Number | Product Description | Freq Band | Nominal Gain dBd | Freq MHz | Vert Beamwidth | Horiz Beamwidth | Power W |
| --- | --- | --- | --- | --- | --- | --- | --- |
| COL45-70 (COL45-470) | UHF MeanderTM Collinear, 7dBd, 450-470MHz, PIM Rated | UHF | 7 | 450-470 | 12.5° | Omni +/- 0.5dB | 250 |
| COL45-71 | UHF MeanderTM Collinear, 7dBd, 470-490MHz, PIM Rated | UHF | 7 | 470-490 | 12.5° | Omni +/- 0.5dB | 250 |
| COL45-72 (COL45-520) | UHF MeanderTM Collinear, 7dBd, 490-520MHz, PIM Rated | UHF | 7 | 490-520 | 12.5° | Omni +/- 0.5dB | 250 |
| COL410-70 | UHF MeanderTM Collinear, 9dBd, 450-470MHz, PIM Rated | UHF | 9 | 450-470 | 7.2° | Omni +/- 0.5dB | 250 |
| COL410-71 | UHF MeanderTM Collinear, 9dBd, 470-490MHz, PIM Rated | UHF | 0 | 470-490 | 7.2° | Omni +/- 0.5dB | 250 |
| COL410-72 | UHF MeanderTM Collinear, 9dBd, 490-520MHz, PIM Rated | UHF | 0 | 490-520 | 7.2° | Omni +/- 0.5dB | 250 |
| COL45-58 (COL45-400) | UHF MeanderTM Collinear, 7dBd, 380-400MHz, PIM Rated | UHF | 7 | 380 – 400 | 12.5° | Omni +/- 0.5dB | 250 |
| COL45-65 (COL45-420) | UHF MeanderTM Collinear, 7dBd, 400-420MHz, PIM Rated | UHF | 7 | 400 – 420 | 12.5° | Omni +/- 0.5dB | 250 |
| COL81-930 | 800/900MHz Meander™ Collinear, 0dBd, 850-930MHz | 800/900 | 0 | 850-930MHz | 67 | Omni +/- 0.5dB | 250 |
| COL85-806 | 700/800MHz Meander™ Collinear, 7dBd, 748-806MHz | 700/800 | 7 | 746-806MHz | 13° | Omni +/- 0.5dB | 250 |
| COL85-870 | 800 MHz Meander™ Collinear, 7dBd, 806-870MHz | 800 | 7 | 746-806MHz | 13° | Omni +/- 0.5dB | 250 |
| COL85-930 | 800/900MHz Meander™ Collinear, 7dBd, 850-930MHz | 800/900 | 7 | 850 to 930MHz | 13° | Omni +/- 0.5dB | 250 |
| COL53-174N | VHF MeanderTM Collinear, 4dBd, 160-174MHz | VHF | 4 | 162 -174MHz | 23.4° | Omni +/- 0.5dB | 400 |
| COL54-174 | VHF MeanderTM Collinear, 6dBd, 162-174MHz, PIM Rated | VHF | 6 | 162 to 174MHz | 17° | Omni +/- 0.5dB | 400 |
| COL811-806 | 700/800 MHz Meander™ Collinear, 9dBd, 748-806MHz | 700/800 | 9 | 746 to 806MHz | 6.5° | Omni +/- 0.5dB | 250 |
| COL811-824 | 700/800MHz Meander™ Collinear, 9dBd, 796-824MHz | 700/800 | 9 | 796 to 824MHz | 6.5° | Omni +/- 0.5dB | 250 |
| COL811-870 | 800 MHz Meander™ Collinear, 9dBd, 806-870MHz | 800 | 9 | 806 to 870MHz | 6.5° | Omni +/- 0.5dB | 250 |
| COL811-930 | 800/900MHz Meander™ Collinear, 9dBd, 850-930MHz | 800 | 9 | 850 to 930MHz | 6.5° | Omni +/- 0.5dB | 250 |
| COL54-166 | VHF MeanderTM Collinear, 6dBd, 156-166MHz, PIM Rated | VHF | 6 | 156 to 166MHz | 17° | Omni +/- 0.5dB | 400 |
| COL53-140 | VHF MeanderTM Collinear, 4dBd, 130-140MHz, PIM Rated | VHF | 4 | 130 -140MHz | 23.4° | Omni +/- 0.5dB | 400 |
| COL53-150 | VHF MeanderTM Collinear, 4dBd, 140-150MHz, PIM Rated | VHF | 4 | 140 -150MHz | 23.4° | Omni +/- 0.5dB | 400 |
| COL53-160 | VHF MeanderTM Collinear, 4dBd, 150-160MHz, PIM Rated | VHF | 4 | 150 – 160MHz | 23.4° | Omni +/- 0.5dB | 400 |
| COL53-174 | VHF MeanderTM Collinear, 4dBd, 160-174MHz, PIM Rated | VHF | 4 | 162 -174MHz | 23.4° | Omni +/- 0.5dB | 400 |
| COL54-155 | VHF MeanderTM Collinear, 6dBd, 145-155MHz, PIM Rated | VHF | 6 | 145 to 155MHz | 17° | Omni +/- 0.5dB | 400 |
| COL54-160 | VHF MeanderTM Collinear, 6dBd, 150-160MHz, PIM Rated | VHF | 6 | 150 to 160MHz | 17° | Omni +/- 0.5dB | 400 |
| COL43-72 (COL43-520) | UHF MeanderTM Collinear, 5dBd, 490-520MHz, PIM Rated | UHF | 5 | 490 to 520MHz | 21 | Omni +/- 0.5dB | 250 |
| COL45-66 (COL45-430) | UHF MeanderTM Collinear, 7dBd, 410-430MHz, PIM Rated | UHF | 7 | 410 to 430MHz | 12.5° | Omni +/- 0.5dB | 250 |
| COL51-160 | VHF MeanderTM Collinear, 0dBd, 150-160MHz, PIM Rated | VHF | 2.1 (0) | 150 – 160MHz | 92 | Omni +/- 0.5dB | 350 |
| COL41-58 | UHF Meander™ Collinear, 0dBd, 380-400MHz | UHF | 0 | 380 to 400MHz | 109 | Omni +/- 0.5dB | 250 |
| COL43-65 (COL43-420) | UHF Meander™ Collinear, 5dBd, 400-420MHz | UHF | 5 | 400 to 420MHz | 21 | Omni +/- 0.5dB | 250 |
| COL43-66 (COL43-430) | UHF Meander™ Collinear, 5dBd, 410-430MHz | UHF | 5 | 410 to 430MHz | 21 | Omni +/- 0.5dB | 250 |
| COL43-70 (COL43-470) | UHF Meander™ Collinear, 5dBd, 450-470MHz | UHF | 5 | 450 to 470MHz | 21 | Omni +/- 0.5dB | 250 |
| COL410-58 (COL410-400) | UHF MeanderTM Collinear, 9dBd, 380-400MHz, PIM Rated | UHF | 9 | 380 to 400MHz | 7.2° | Omni +/- 0.5dB | 250 |
| COL410-65 (COL410-420) | UHF MeanderTM Collinear, 9dBd, 400-420MHz, PIM Rated | UHF | 9 | 400 to 420MHz | 7.2° | Omni +/- 0.5dB | 250 |
| COL410-66 (COL410-430) | UHF MeanderTM Collinear, 9dBd, 410-430MHz, PIM Rated | UHF | 9 | 410 to 430MHz | 7.2° | Omni +/- 0.5dB | 250 |
| COL41-71 | UHF Meander™ Collinear, 0dBd, 470-490MHz | UHF | 0 | 470 to 490MHz | 69 | Omni +/- 0.5dB | 250 |
| COL41-72 | UHF Meander™ Collinear, 0dBd, 490-520MHz | UHF | 0 | 490 to 520MHz | 57 | Omni +/- 0.5dB | 250 |
| COL43-58 (COL43-400) | UHF Meander™ Collinear, 5dBd, 380-400MHz | UHF | 5 | 380 to 400MHz | 21 | Omni +/- 0.5dB | 250 |
| COL41-70 | UHF Meander™ Collinear, 0dBd, 450-470MHz | UHF | 0 | 450 to 470MHz | 71 | Omni +/- 0.5dB | 250 |
| COL41-65 | UHF Meander™Collinear, 0dBd, 400-420MHz, PIM Rated | UHF | 0 | 400 to 420MHz | 96 | Omni +/- 0.5dB | 250 |