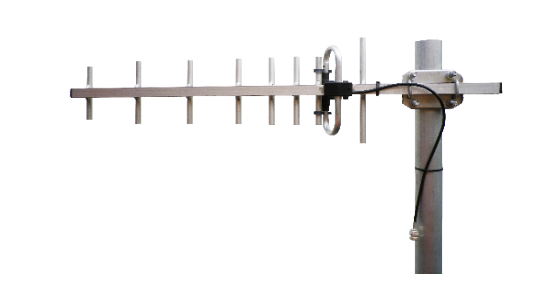 700/800 MHz Yagi, 11dBd, 746-896 MHz
This high gain yagi antenna provides a solution where operation within the 700/800MHz frequency bands is required. Their broad operating bandwidth also provides network design consistency and maintenance stocking benefits for users operating in multiple frequency band segments.
The unique dipole element design delivers excellent performance across the entire 150MHz bandwidth, with consistently low VSWR and less pattern distortion than dual dipole designs. The passive elements are mounted to the square boom section and welded on both sides to minimize the potential for corrosion or the generation of passive intermodulation (PIM). The antenna rests at ground potential to provide excellent lightning protection and reduced precipitation static noise.
Applications include RF control, short or long-haul links, control station combining and telemetry installations requiring a highly directional antenna in point-to-point and point-to-multipoint networks.
Features:
Wideband coverage from 746MHz to 896MHz
All welded construction for reliability
Excellent front to back ratio
EcofilmTM conductive plating for performance reliability
Designed to minimize the generation of PIM
| | |
| --- | --- |
| Electrical Specifications | YW09-7489 |
| Nominal Gain dBd (dBi) | 11 (13.1) |
| Frequency MHz | 746 – 896 |
| Tuned Bandwidth MHz | 150 |
| VSWR | <1.5:1 |
| Nominal Impedance Ω | 50 |
| Vertical Beamwidth o | 52 |
| Horizontal Beamwidth o | 64 |
| Front to Back Ratio (dB) | 20 |
| Input Power Watts | 200 |
PDF Downloads
Digitised Patterns
To download the pattern file right click on the file and select "Save Link As". The desired file format can then be viewed in your network planning software.
| | |
| --- | --- |
| Shipping Weight (lbs.) | 5 |
| Shipping Dims (inches) | 40x8x6 |