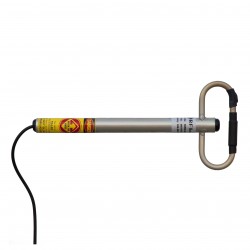 SMD8-90 Side Mounted Dipole, 806-960MHz
The SMD8-90 side mount dipole is an extremely broad bandwidth antenna recommended for local area coverage or short haul RF link applications.
SMD8-90 Features:
The antenna is internally DC grounded for lightning protection and the reduction of precipitation static noise.
• Provides either directional or largely omnidirectional radiation pattern
• All welded and alodined aluminium construction
Please note, we recommend against phasing the SMD8-90 antenna as the required accuracy is far too critical to be adequately controlled in the field. Thus, we do not publish any information to assist in the phasing of our 800 MHz side mount dipole antennas.
| | |
| --- | --- |
| Nominal Gain dBd | 0 but can be incresed with mounting arrangements |
| Frequency MHz | 806 to 960MHz |
| Tunable Bandwidth | Full. No tuning required |
| VSWR | <1.5:1 |
| Polarisation | Vertical |
| Vertical Beamwidth | Typically 85° at ¼ λ antenna – mast spacing |
| Horizontal Beamwidth | Typically 213° at ¼ λ antenna – mast spacing |
| Power W | 200 |
| Construction | All welded aluminium with alodined finish |
| Length (inch) | 11.81 |
| Weight (pound) | 0.44 |
| Termination | N female with short 9142 cable tail |
| Mounting Area | 100mm x 25mm diam. alodined aluminium |
| | |
| --- | --- |
| Shipping Weight (lbs.) | 3 |
| Shipping Dims (inches) | 16x7x6 |