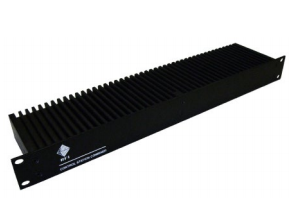 Broadband Short-Haul Control station combiner, 40-960 MHz, 24 Channel
RFI's range of Broad Band Short Haul Control Station Combiners address the need to combine multiple shared Tx output / Rx input (T/R) ports onto a single feeder line or suitable antenna. The BB SH CSC provides predictable co-located control station radio transceiver to transceiver isolation and full frequency agility. Compatible with both analog and digital communication systems the BB SH CSC is modular in construction providing easy expansion accommodating from 4 up to 32 channels.
CS0496-2405-31 Features:
Short-Haul Control Station Combiners provide fixed isolation between radio units using power attenuators and signal combining techniques. The result is higher per channel insertion losses than standard Control Station Combiners. In applications where the radios units are to be operated in close proximity to the network's base site, this additional insertion loss ensures the base site equipment's receivers are not overloaded, and the Control Station radio's receivers are similarly not overloaded by the base site's transmitters. The combining capabilities of these models can significantly reduce tower clutter and loading, simplify cabling installation and reduce deployment costs at Control Center facilities.
Models are broadband and cover the entire 40 – 960MHz bandwidth, in standard configurations of 4, 8, 16, 24 and 32 channels. Configurations for use with up to 128 channels (and beyond) are also available.
• Low profile for space efficient Installation
• Frequency agile with predictable Isolation
• Broadband capability for multi-band operation
• Analogue and digital compatible
| | |
| --- | --- |
| Frequency MHz | 40 to 960 MHz |
| T/R Port-Port Isolation dB | > 60dB |
| Operating Temp. Range | -30 to +50°C / -22 to +122°F |
| Insertion Loss dB @ UHF | 38.5dB +/- 2.5dB |
| RF Power W | Per Channel: Up to 50 |
| Return Loss dB | > 14dB |
| Min. frequency separation | No limitations |
| Insertion Loss dB @ 900 MHz | 38.5dB +/-2.5dB |
| Ant-T/R Port-Port Isolation dB | Equivalent to values Insertion Loss |
| Duty Cycle | 20% @ 50w continuous on all ports simultaneously, 40% @ 25w continuous on all ports simultaneously, 100% @ 10w continuous on all ports simultaneously |
| Channel Capacity | 1-24 |
| Connector | N female (all ports) |
| Grounding | M6 Earth Stud |
| Dimensions mm/inches | H=177 W=483 D=203 / H=7 W=19 D=8 |
| Weight kg lbs | 19/42 |
| Finish | Black |
PDF Downloads
| | |
| --- | --- |
| Shipping Weight (lbs.) | 45 |
| Shipping Dims (inches) | 24x15x10 |