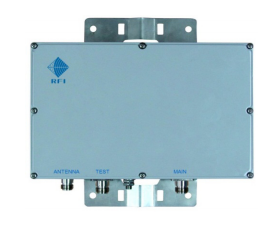 Receiver Multicoupler/TTA Controller unit (RxMUX) 690-960MHz, 8 PORT MULT With TTA Control -48VDC
The TTA7982-0100-10-00 Tower Top Amplifier is a full-featured, high performance system utilizing a quadrature-coupled Low Noise Amplifier (LNA) design to improve the performance of a network site. The TTA system comprises two components; the Tower Top Amplifier (TTA), and an RX6996-3001-36-xxN Receiver Multicoupler/TTA Controller unit (RxMUX) that intergrates into a Motorola GTR800 ESS system.
The Tower Top Amplifier is designed and built for ease of mounting to varying size tower legs using commonly available fasteners with a compact and integrated precision milled high selectivity low loss preselector, reducing the TTA profile and hence tower loading. Two independent LNA's, with an auto by-pass mode and constant monitoring provide system redundancy, resilience and improved availability. Low noise linear amplifiers provide excellent Inter-Modulation (IM) performance ensuring maintained integrity of received signals across a wide signal amplitude dynamic range.
The precision milled and integrated TTA preselector provides >110dB of selectivity before the TTA LNA and RxMUX active circuitry. A comprehensive microprocessorcontrolled status and fault monitoring system provides continuous monitoring and switching of the redundant LNAs.
Ease of installation and configuration via user-friendly switches or an onboard web server and GUI interface, reduces installation setup time. Unique "auto-gain" feature provides an additional level of failure tolerance. Test port functionality facilitates the Motorola 5 step plan for commissioning and Performance Logging ensures that ongoing optimum system performance is measurable. Front and rear panel LED indicators and Form-C relay fault reporting with the simplicity of local or remote system status diagnostics via the Ethernet port greatly assists in determining network health and pro-active maintenance. The RxMUX features selectable in-line Post filter connections to facilitate additional
Features
Integrated precision milled pre-selector filter in TTA
TTA selectivity (>110dB) prior to all active circuitry
Redundant TTA quadrature LNA circuits
Extensive circuit monitoring and alarm management
Test Ports and Functionality supports Motorola 5 Step Plan
Convenient RxMUX front panel controls
User-friendly webserver Graphical User Interface (GUI)
Auto-Gain and Auto-Changeover modes
Compact and light weight TTA for minimal tower loading
Form-C contacts for fault reporting through an alarm management system
12VDC, 24VDC, 48VDC or 90-264VAC versions available
Designed to interface to a Motorola GTR800 ESS System
| | |
| --- | --- |
| Frequency Band | 700/800MHz |
| Frequency Range | 796-824MHz |
| Preselector Selectivity | >110dB @ 776MHz, >110dB @ 851MHz |
| Amplifier (LNA) Type | Quadrature |
| TTA System Net Gain | Adjustable via Switches or webserver GUI |
| Number of RF Outputs | 1 |
| System Noise Figure | <3.5dB (note 1) |
| Test Port | Included |
| Isolation of Test Port | 30dB /-2dB |
| 50ohm Termination Testing | Included |
| Bypass Test Mode | Included |
| Net Weight | TTA / RxMux 12lbs |
| 50ohm Termination Testing | Included |
| Ship Weight | TTA / RxMux 17lbs |
PDF Downloads
| | |
| --- | --- |
| Shipping Weight (lbs.) | 12 |
| Shipping Dims (inches) | 24x24x3 |