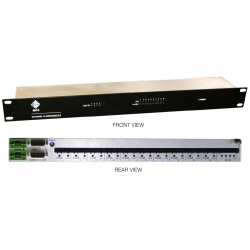 Site Alarm Module, Temperature Sensor, -67 to +257 Degrees F
This Temperature Sensor is an option for the Antenna System Monitor's Site Alarm Module (SAM) and allows the measurement, monitoring and alarming of the temperature of an equipment room, rack cabinet, UPS battery, etc.
This Temperature Sensor interfaces to the Antenna System Monitor's Site Alarm Module (SAM) option and allows the measurement of temperature from -55 to +125 deg C, or -67 to +257 deg F (configurable in the Antenna System Monitor GUI). Minimum and maximum temperature alarm thresholds can be configured, allowing the Antenna System Monitor to monitor temperature, and generate GUI, SNMP or SMTP (Email) and Manager Messages UDP data packet alarm events. The unit is a small universal housing that suits a range of mounting locations, including inside a 19inch equipment rack, on an equipment room wall, or mounted on a battery. A 5m (16.25ft) cable is supplied with the temperature sensor, terminated with a 2 pin connector for connection into the External Input #1 socket on the rear of the SAM. For ease of installation in fixed locations, the 2 pin connector can be removed, the cable shortened, and the connector refitted.
SAM0000-TS Features:
Measurement range -55 to +125 deg C / -67 to +257 deg F
Small, convenient to install, sensor housing
Supplied with 5m (16.25ft) of cable
Connects directly to Site Alarm Module External Input #1
Cable may be reterminated for ease and tidiness of installation
Suits equipment rack, wall and other mounting locations
| | |
| --- | --- |
| Cable length | 5m / 16.25ft |
| Connector | 2 pin Pheonix style (supplied) |
| Mounting | Screw, cable tie, adhesive strip, etc |
| Dimensions mm/inches | 250mm / 10in approx diameter roll |
| Temperature C/F | -55 to +125 deg C / -67 to +257 deg F |
| Weight kg lbs | 350g / 13oz approx. |
PDF Downloads
| | |
| --- | --- |
| Shipping Weight (lbs.) | 1 |
| Shipping Dims (inches) | 16x6x7 |