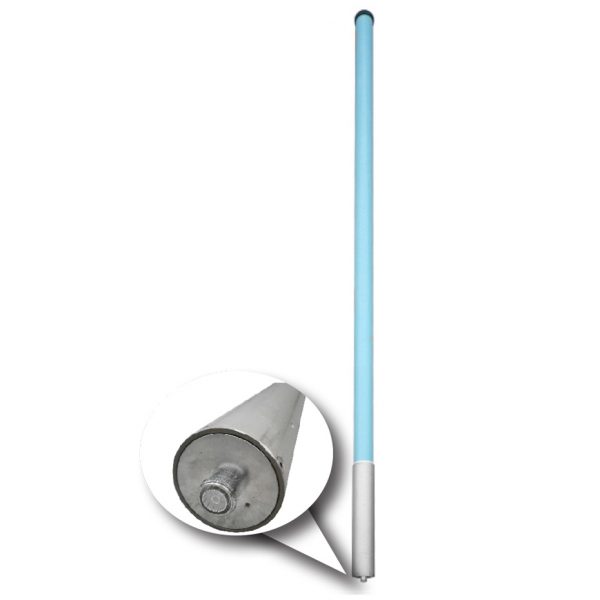 UHF CC450 Series Corporate Collinear, 6dBd, 450-520MHz, 6° Downtilt
These industry leading, full featured corporate collinear arrays allow site operators to combine, with complete integrity, a large number of communications services into a single, low profile antenna solution.
CC450-06-T6 Features:
-Extraordinary bandwidth characteristics with superior pattern stability over an extended band coverage
-Lightweight dipole construction using RFI's patented flexi-PCB architecture maintains a low center of gravity reducing tip deflection and sway
-DC grounding on all elements for the ultimate in lightning protection and dissipation of static noise
-Sealed PTFE insulated cables in harnessing ensure high power capability
-150dBc Passive Intermodulation (PIM) rating
-25 kW Peak Instantaneous Power (PIP) rating
-Field invertible
The corporate feed design employed by RFI maintains superior pattern control, allowing gain to be maximized with zero tilt variation over a very broad bandwidth, comparable to that only previously available in exposed dipole array configurations. This is achieved in the preferred form factor of a fully enclosed fiberglass radome, providing a reduction in wind loading, ice loading and tower loading in comparison.
The CC450 series have been designed with an exceptional power rating of 500W across the band as well as a Peak Instantaneous Power (PIP) rating of 25kW to cater for the peak voltage levels present in large multi-carrier combining environments. RFI's refined design processes and proven construction methods achieve a PIM rating of –150dBc, further ensuring performance is maintained for the service life of the antenna.
| | |
| --- | --- |
| Nominal Gain dBd | 6 |
| Frequency MHz | 450 to 512MHz |
| Tunable Bandwidth | Full band |
| VSWR | <1.5:1 (14dB) |
| Vertical Beamwidth | 15° |
| Horizontal Beamwidth | Omni /- 0.5dB |
| Power W | 500 |
| Passive IM 3rd Order (2x20W) dBc | -150 |
| Construction | Composite fiberglass sky blue radome, aluminum mounting tube |
| Length (inch) | 113.22 |
| Radome Diameter (inch) | 3.03 |
| Weight (pound) | 22.04 |
| Termination | 7/16" DIN fixed female |
| Mounting Area | 20″ x 3.5″ diam. Aluminum |
| Suggested Clamps | UC-1142 |
| Invertible Mounting | Field Invertible |
| Lateral (Thrust) mph | 63 |
| Wind Gust Rating mph | >150 |
| Torque @ 100mph ft-lbs. | 252 |
PDF Downloads
Digitized Patterns
To download the pattern file right click on the file and select "Save Link As". The desired file format can then be viewed in your network planning software.
| | |
| --- | --- |
| Shipping Weight (lbs.) | 50 |
| Shipping Dims (inches) | 118x5x5 |