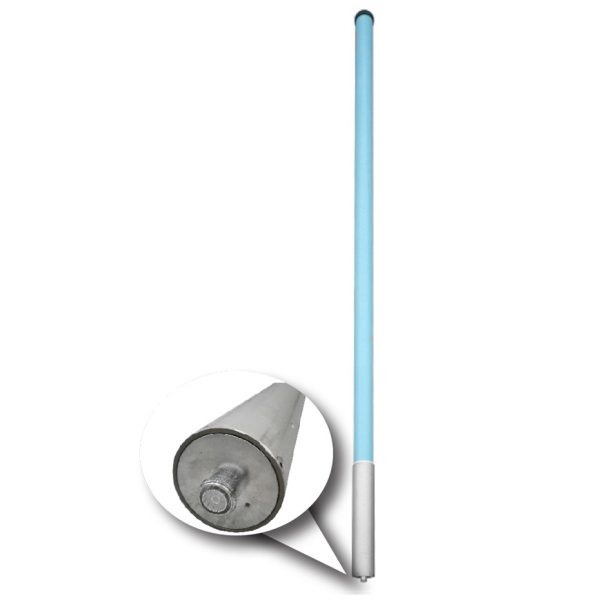 UHF CC450 Series Corporate Collinear, 8.5dBd, 450-520MHz, 3° Downtilt
These industry leading, full featured corporate collinear arrays allow site operators to combine, with complete integrity, a large number of communications services into a single, low profile antenna solution.
CC450-09-T3 Features:
-Extraordinary bandwidth characteristics with superior pattern stability over an extended band coverage
-Lightweight dipole construction using RFI's patented flexi-PCB architecture maintains a low center of gravity reducing tip deflection and sway
-DC grounding on all elements for the ultimate in lightning protection and dissipation of static noise
-150dBc Passive Intermodulation (PIM) rating
-25 kW Peak Instantaneous Power (PIP) rating
-Field invertible (excludes Tilt variants)
The corporate feed design employed by RFI maintains superior pattern control, allowing gain to be maximized with zero tilt variation over a very broad bandwidth, comparable to that only previously available in exposed dipole array configurations. This is achieved in the preferred form factor of a fully enclosed fiberglass radome, providing a reduction in wind loading, ice loading and tower loading in comparison.
The CC450 Series have been designed with an exceptional power rating of 500W across the band as well as a Peak Instantaneous Power (PIP) rating of 25kW to cater for the peak voltage levels present in large multi-carrier combining environments. RFI's refined design processes and proven construction methods achieve a PIM rating of –150dBc, further ensuring performance is maintained for the service life of the antenna.
| | |
| --- | --- |
| Nominal Gain dBd | 8.5 |
| Frequency MHz | 450 to 512MHz |
| Tunable Bandwidth | Full band |
| VSWR | <1.5:1 (14dB) |
| Vertical Beamwidth | 8° |
| Horizontal Beamwidth | Omni /- 0.5dB |
| Power W | 500 |
| Passive IM 3rd Order (2x20W) dBc | -150 |
| Construction | Composite fiberglass sky blue radome, aluminum mounting tube |
| Length (inch) | 204.96 |
| Radome Diameter (inch) | 3.03 |
| Weight (pound) | 55.11 |
| Termination | 7/16" DIN fixed female |
| Mounting Area | 20″ x 3.5″ diam. Aluminum |
| Suggested Clamps | UC-1143 |
| Invertible Mounting | Field Invertible |
| Lateral (Thrust) mph | 123 |
| Wind Gust Rating mph | >150 |
| Torque @ 100mph ft-lbs. | 909 |
| | |
| --- | --- |
| Shipping Weight (lbs.) | 80 |
| Shipping Dims (inches) | 205x5x5 |