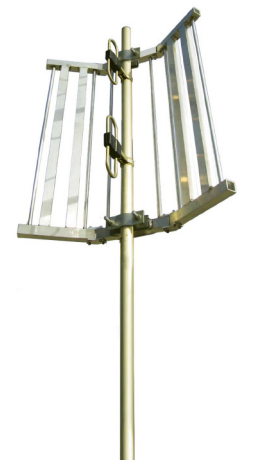 CSA Series UHF Screened Dipole Array, 11dBd, 406-512MHz
The CSA Series arrays are based on the popular OA Series dipole array antennas. Supplied in "kit" form, these antennas are delivered in flatpack packaging to minimize freight and warehousing issues and allow for simplified assembly at time of installation.
The CSA Series arrays have approximately 70 degrees horizontal beamwidth and offer 7, 9 and 11dBd in gain. The use of the corner screen reflector boosts the front to back ratio considerably allowing for tailoring antenna patterns for frequency re-use in extended networks.
CSA Series Arrays feature the same solid construction as the standard array series. The folded dipoles utilize an internal phasing harness in PTFE based double screened coaxial cable with a polyethylene jacket. The screens themselves are also made of fully welded aluminum to assist in minimizing PIM.
With all welded construction and superior internal harness construction, the antennas provide not only excellent radiation characteristics but also defined, high levels of intermodulation and noise suppression. IM performance is -140dBc based on a two-carrier test. The entire array rests at ground potential and offers the ultimate in lightning resistant antennas.
• Offset (cardioid) pattern with 70 Degree nominal Horizontal Beamwidth
• High front to back ratio to allow frequency re-use by tailoring coverage areas
• Hermetically sealed internal PTFE based phasing harness capable of 500W continuous operation.
• Shipped unassembled for ease of handling, easily assembled on site
• Direct DC grounded for lightning protection and reduction of precipitation static noise
• Industry-leading dual sectioned antenna PIM ratings (-140dBc) providing low IM and low noise characteristics for optimum performance
| | |
| --- | --- |
| Nominal Gain dBd | 11 |
| Frequency MHz | 406-512 |
| Tuned Bandwidth MHz | Full |
| VSWR (Return Loss) | <1.5 :1 (14) |
| Nominal Impedance Ω | 50 |
| Vertical Beamwidth | 17° |
| Horizontal Beamwidth | 71° |
| Front / Back Ratio dB | 28 |
| Input Power (Watts) | 500 |
| Passive IM 3rd order (2x20W) dBc | <-140 |
PDF Downloads
Digitised Patterns
To download the pattern file right click on the file and select "Save Link As". The desired file format can then be viewed in your network planning software
| | |
| --- | --- |
| Shipping Weight (lbs.) | 120 |
| Shipping Dims (inches) | 126x30x8 |