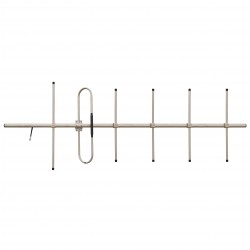 VHF 6 Element Yagi, 9dBd, 100-250MHz
The YL and YH Series yagi antennas are ideal for applications requiring directional gain. These yagis, with predictable beamwidths and consistently high front to back ratios, are ideal for long or short haul links and other applications demanding specific radiation pattern control.
The YH06 boom and the elements are constructed from thick walled alodined aluminum tubing. The passive elements are of one piece construction and clamped to the boom with a unique wrap-around single bolt bracket. The radiating element is through mounted on to the boom. All fittings and fasteners are made from marine grade stainless steel and self-locking nuts are used throughout the assembly to prevent loosening due to vibration.
All yagi antennas are directly DC grounded to provide lightning protection and reduced precipitation static noise. Termination is via an N-type female coaxial connector fitted to a short RG213 cable tail.
YL and YH yagis are supplied unassembled for ease of handling and are quickly assembled using only basic tools. Colour coding of elements and the boom section further simplify the assembly and installation.
• High performance – ideal for long or short haul applications
• Controlled Beamwidths – predictable beamwidths and consistently high front to back ratios
• Simplified Installation – color coding and unique single bolt clamps simplify installation
| | |
| --- | --- |
| Nominal Gain dBd | 9 |
| Frequency MHz | 100 to 250MHz Custom Tuned |
| Tunable Bandwidth | 8MHz |
| VSWR | <1.5:1 |
| Vertical Beamwidth | 52° |
| Horizontal Beamwidth | 50° |
| Front/Back Ratio dB | Typically 15 |
| Power W | 250 |
| Construction | Thick-walled aluminum boom and elements with alodined finish |
| Length (inch) | 137.79 |
| Weight (pound) | 11.02 |
| Termination | N female with RG213 cable tail |
| Mounting Area | 15.7″ x 1.5″ diam. aluminum |
PDF Downloads
Digitised Patterns
To download the pattern file right click on the file and select "Save Link As". The desired file format can then be viewed in your network planning software.
| | |
| --- | --- |
| Shipping Weight (lbs.) | 20 |
| Shipping Dims (inches) | 140x56x6 |