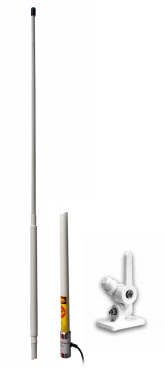 VHF Marine Antenna, 3dB, With Marine Deck Mount
These VHF marine antennas are designed specifically for the VHF international maritime bands and seaphone frequencies. The ground independent design allows great mounting flexibility in the marine environment.
The antennas are housed within a fibreglass radome with the radiating element tightly sealed to provide protection from the corrosive marine environment.
The MDE Series deck mount antennas mount on an MAM1 marine mount which can be adjusted through 180° in both planes allowing great mounting flexibility. The MDE101 is a unity gain antenna measuring 1.3m high and is ideal for mounting on a flybridge, above obstructions or on smaller vessels.
The MDE331 antenna is a 3 dB gain antenna measuring 2.7m high. The MDE331 is ideal when mounting on the lower deck where it provides the extra height needed to elevate the radome section above flybridges and other obstructions. It is also useful in applications requiring a deck mounted high gain antenna.
Features:
Unity or 3 dB gain versions
Performance – Ground independent design allows for mounting in virtually any location
MAM1 marine mount allows flexibility in mounting attitude
Rugged – Designed specifically for the marine environment
| | |
| --- | --- |
| Gain | 3dB over a ¼ wave |
| Frequency MHz | 156 – 162 |
| Power W | 25 |
| Tuned Bandwidth | Entire specified band @ <1.8:1 VSWR |
| Tuning | Supplied pre-tuned |
PDF Downloads
| | |
| --- | --- |
| Shipping Weight (lbs.) | 10 |
| Shipping Dims (inches) | 120x3x3 |