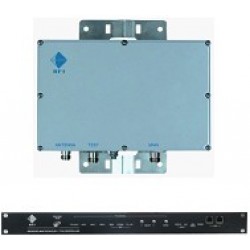 Tower Top Amplifier System, 794-824MHz (TTA Only)
A Tower Top Amplifier (TTA) improves base station receiver performance at a communications network site by placing the base station receiver system's preselector and low-noise amplifiers close to the receive antenna(s), overcoming the increased system noise figure and receiver sensitivity degradation introduced in a communications system by the insertion loss of the coaxial feeder cables installed on the tower. This coaxial feeder cable loss degradation increases over longer cable lengths and at higher frequencies, and TTAs are therefore particularly beneficial for systems installed on large towers or buildings, or operating in the higher (i.e. 7/8/900MHz) frequency bands.
The TA7982 Series Tower Top Amplifier system is a full-featured, high performance TTA system utilising exceptional preselector selectivity and redundant quadrature-coupled ultra low noise amplifiers (LNAs) to improve the base station receiver sensitivity performance of a network site. The TTA system comprises two components; the Tower Top Amplifier (TTA), and a Receiver Multicoupler/TTA Controller unit (RMC).
The small size of these TTA units reduces tower loading, and the integral milled preselector increases the TTA's rejection of unwanted RF signals by placing all of the system's >110dB of preselector selectivity before the sensitive TTA LNAs and RMC's active circuitry. Two independent quadrature LNAs in the TTA, each powered by separate power supplies, provide industry-leading low noise figure and intermodulation (IM) performance, and the redundancy to improve system resiliency, fault-tolerance and network availability. A comprehensive microprocessor-controlled status and fault monitoring system in the TTA provides continuous monitoring and switching of the redundant LNAs.
The RMC features front panel switches, front panel indicators, and a Form-C relay provide system configuration and fault status functions. Selectable inline Post Filter connections allow configuration of reduced passband widths when required, and Bypass, Terminated and Test Port functionality is also included to support testing, commissioning and PMI activities. Extensive functionality including Auto Gain, Auto Mode, Gain Boost, Auto Bypass and Auto Recover capabilities, monitoring and alarm diagnostics, and communication management is also available for configuration via an on-board user-friendly webserver Graphical User Interface (GUI).
| | |
| --- | --- |
| Frequency Band | 700/800MHz |
| Frequency Range | 794-824MHz (reduced passband widths available using RMC post filter) |
| Preselector Selectivity | >110dB @ 776MHz >110dB @ 851MHz |
| Amplifier (LNA) Type | Quadrature (redundant) |
| 3rd Order IIP | >15dBm |
| TTA System Nett Gain | Adjustable via switches or webserver GUI |
| Number of RF Outputs | 8, 9, 16 or expandable up to 128 |
| System Noise Figure | <3.5dB typ. (assumes TTA, 6dB feeder, and RMC) |
| Test Port | Included |
| Isolation of Test Port | 30dB /-2dB |
| 50ohm Termination Testing | Included |
| Bypass Test Mode | Included |
| Modes | Auto Gain, Auto Mode, Gain Boost, Auto Bypass and Auto Recover |
| Nett Weight | 13.22(pound) / 13.2lbs for TTA / RMC (8way) 15.65(pound) / 15.6lbs for TTA / RMC (16way) |
| Ship Weight | 18.07(pound) / 18lbs for TTA / RMC (8way) 23.36(pound) / 23.3lbs for TTA / RMC (16way) |
PDF Downloads
Software Base Line Upgrades and associated MIB files
To download the file right click on the file and select "Save Link As".
Downloading a firmware update?  Don't forget to download the updated manual too.
| | |
| --- | --- |
| Shipping Weight (lbs.) | 12 |
| Shipping Dims (inches) | 13x13x12 |